5 Celebrity Reading Glasses Styles – Everyone wants on-trend eyewear, but how do you know what's in fashion? Start by browsing the top celebrity reading glasses of the season. Find out which readers are
most flattering for your face shape and then shop for gorgeous frame colors and chic details. With so much eyewear inspiration, you'll find a celebrity style that feels super luxe and stands out from other designs.
1. Cat-Eye Glasses
Cat-eye glasses are a woman's best friend. This playful, feminine look is also popular among celebrities this season. If you like the classic look of cat-eye sunglasses, why not try them as reading glasses? Oprah reading glasses are worth shopping for because they feature stunning cat-eye frames with bold designs and subtle, sweeping angles. Shop for Oprah's favorite colorful tortoise readers and pretty pastels. There are so many options that you'll find a hue to match your personality and eye color.
Cat-eye glasses are even beloved by mega-stars like Rihanna. After all, cat-eyes are about fashion and self-expression. Be just as daring with fresh, seasonal colors like traditional black or racy red. Play with size by choosing oversized frames or tiny glasses.
2. Thick, Bold Frames
Reading glasses are trending bold and thick this season. Jennifer Aniston and Julia Roberts are some of the actresses who are taking advantage of these studious, chic designs. Add an attractive yet academic edge with black angular frames – or pull off the look with dark and chunky oversized glasses.
Another option is to try dramatic shades like blue quartz or dark purple. These are some of the darker colors that are in fashion. No matter your hue, you'll look great in round frames or soft-square glasses. Stand out with an eye-catching matte finish or go next-level with designer details like a classic keyhole nose bridge. If the oversized frame is too much for your face shape, you can always opt for black mid-sized glasses instead.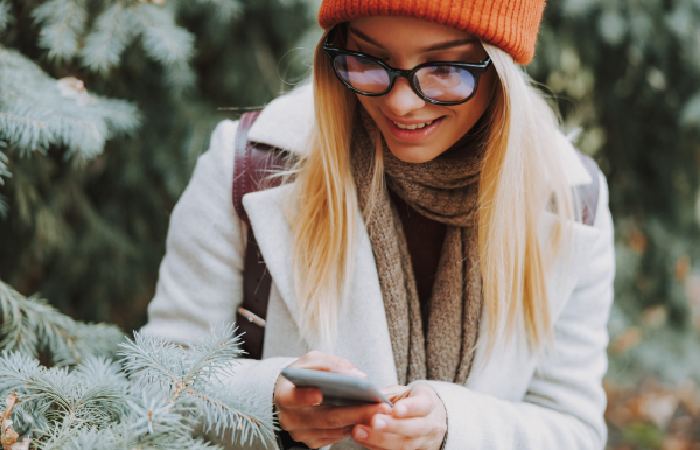 3. Thin, Metallic Eyewear
Understated specs can still be stylish. If you're a minimalist, you must check out the latest thin and metallic eyewear. This style is on-trend partly because it makes it look like you're hardly wearing glasses. Metallic frames are also incredibly sleek and lightweight. If you need to be inspired, you can start with some stylish looks worn by Gigi Hadid and Sarah Jessica Parker.
The metallic look is on-trend for anyone who prefers understated fashion. With thin metal eyewear, you can choose from a variety of frame shapes. Some top designs include sporty double bridge styles and cute round-shaped glasses. Metal alternates like bronze and rose gold are in style, but you can also go with classic gold or silver.
Wear thin readers or a fun geometric shape. Aviator readers give off a flattering vintage vibe, but a pair of oversized frames will feel totally on-trend. Choose clear lenses or add a bit of stylish, colorful tint.
4. Clear, Translucent Frames
Clear frames are comfortable and lightweight enough to wear at home or the office –and a translucent style adds a bit of fun fashion to your day. Everyone from Kendall Jenner to Cara Delevingne wears clear glasses because they're like a chic optical illusion. You'll notice the glasses on your face, but they'll still appear like they're barely there. Clear readers go with any outfit or play up your look with colorful translucent frames.
Crystal glasses come in stylish pastels that will stay fashionable all season. Some top crystal colors include classic pink and berry. Try flattering your look with a unique shade like rust or aqua. Clear, iridescent frames feature a spectrum of beautiful and delicate colors. You'll notice flecks of purple and green as you move in your glasses. Searching for something bolder? Find clear and colorful frames in shades like green and orange. No matter what texture you prefer, thick and thinner styles are both on-trend.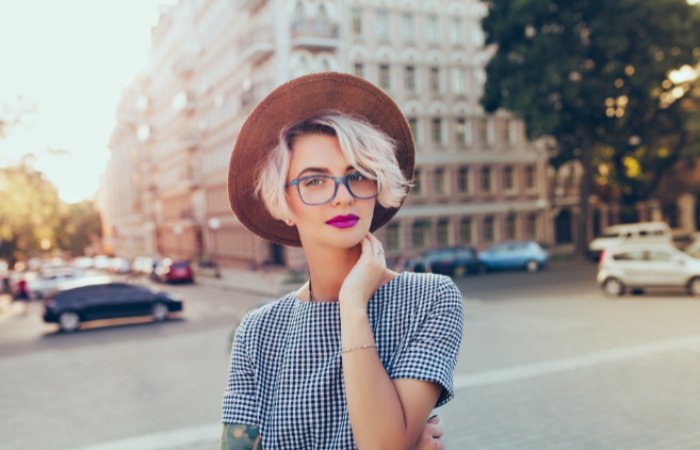 5. Tiny Glasses
Tiny glasses stand out for their uniqueness, but they'll also make your reading experience a little more enjoyable. Half-frame glasses are a perfect choice because they have a small and narrow style like the thinnest frames on the runway. They offer a minimalistic look and lightweight design that many style aficionados crave. They're also helpful as reading glasses because you'll get better magnification throughout your viewing area.
Kourtney Kardashian and Bella Hadid are some influencers wearing the tiny glasses trend. You'll also spot cute half-frame styles on Solange and Emily Ratajkowski. Give yourself a stunning retro look or shop for something strikingly angular and geometric. Discover bold colors and classic prints. On-trend colors apply, including moody Pacific Ocean blue and bright candy apple red.
Discover Stylish, On-Trend Reading Glasses
Many people wear their reading glasses for function, but the frames can be just as stylish as they are useful. After all, the highest-quality readers are flattering and on-trend enough to match your boldest outfits. It's helpful to see the latest celebrity fashions because they offer inspiration when you're shopping for your next pair of eyewear.
Seeing readers on your favorite celebrities can help you decide which design fits you best. Discover your favorite designs and use them as a springboard for the season. No matter what you choose, you'll learn something new about your favorite frames and your fashion sense!