What does a Fire Hydrant mean?
A Fire Hydrant is an observable fixture placed inside or outside of a building, parking lot, industrial area, roadside, mine, etc., that is connected to a municipal or private water supply network. Fire hydrants are designed to provide the instant water firefighters need to extinguish a fire.
In most cases, a fire hydrant is a primary method of extinguishing a fire in a municipal area. It is an outlet with a valve that provides water to fire pumps or fire fighting jeeps engaged in fire fighting. Laws to keep fire hydrants running at regular intervals and freely accessible in buildings, factories, urban and developed areas are an essential component of fire fighting and safety.
How do Hydrants work?
Hydrants are devices for extracting water from pipes and water distribution systems. In the occasion of a fire, a hydrant can provide a rapid supply of water.  Any facility is required to have fire evacuation plan.
The pipe connections are closed with so-called hydrant and hydrant lift wrenches and then connected to fire trucks.
What are the Types of Fire Hydrants?
Above Ground, Split, Tunnel, or Garden Fire Hydrant There are many different fire hydrants for different needs. Depending on the application and the type of water intake, a specific type of hydrant is required. The two most crucial Hawle product categories are aerial hydrants and underground hydrants, available in various designs.
Fire Hydrant System (External And Internal) (Automatic Water Foam) External Fire Hydrant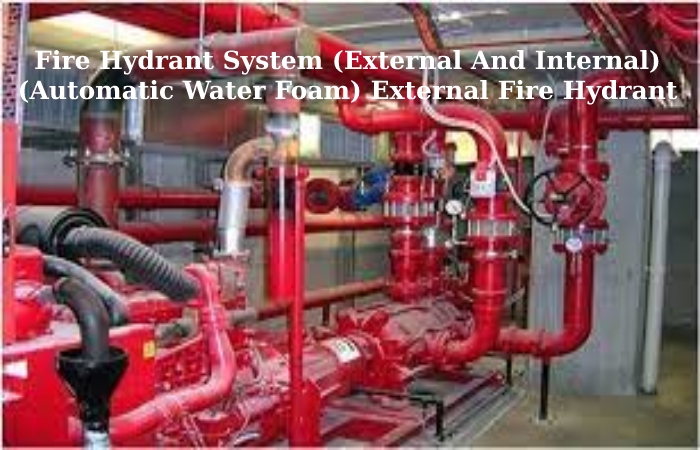 The hydrant installation consists of pipes connected directly to the main water pipe to supply water to each hydrant outlet delivers water to firefighters to extinguish a fire. The water is discharged in a fire truck, pumped over, and sprayed over the fire. If the water supply is unreliable or insufficient, hydrant pumps should be installed to pressurize the fire pipe.
The pipeline network is constantly under underwater pressure. When extinguishing a fire, the feed water supply and the main hydrant pump automatically turns on.
A booster pump copes with minor leaks and maintains pressure in the pipeline network. If the set water pressure drops due to leakage or any other reason, the jockey will automatically start and stop at the set pressure.
In an actual fire condition, the booster pump has little power and cannot hold the pressure, so the main pump will work automatically and supply the nominal amount of water to the system. An immediate automatic water supply system will be available at all hydrant positions.
Choosing the Right Fire Hydrant
For your municipality to function efficiently, it needs fire hydrants. Fire hydrants used by firefighters during a fire to put out flames work by allowing local firefighters to connect to your water utility's pressurized water system quickly.
Firefighters remove one or two nozzles, connect hoses to them, and turn the valve to drain the water. They know how much pressure they have, depending on the colour of the hydrant body and the type of nozzle, allowing them to make quick decisions to help prevent tragedies and reduce property damage.
What Type Of Hydrant Should You Install?
Most people are familiar with the part that remains above ground, but fire hydrants also extend several feet underground. In most cases, there are two (2) types of barrel hydrants, wet and dry, in addition to risers. They have a different structure and mechanism depending on the environment.
Wet barrel fire hydrants are much more common in the south, where they are not at risk of freezing during cold winters, while dry barrel fire hydrants are the norm in areas where freezing can be a problem.
Fire Hydrant Mechanism Types
1. Wet Type Fire Hydrants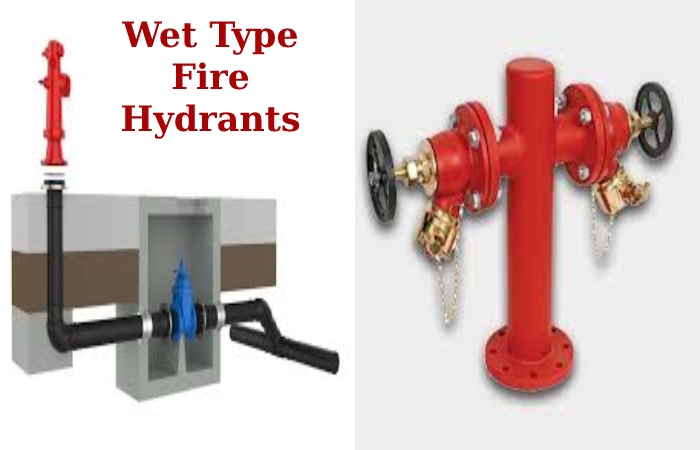 With a potential life of over a hundred (100) years with proper maintenance, wet keg fire hydrants are the industry standard in areas where freezing is not a problem. It is because all mechanical parts are located on the ground.
It means that the water in the main pipe that carries the hydrant flows close to the surface, making it vulnerable to freezing. The most straightforward mechanism is the key to their durability, but it is also part of what makes them freeze more quickly in cold weather.
2. Fire Hydrants, Dry Barrels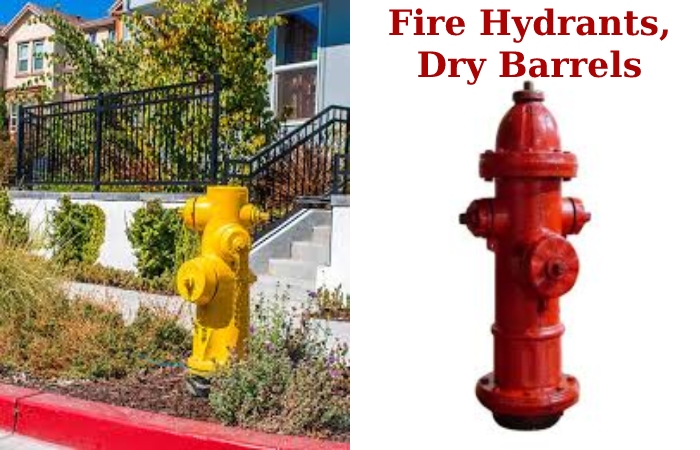 Dry barrel fire hydrants are available in three varieties: slide, lever, and compression. On dry bore hydrants, the hydrant water valve is located deep underground at the hydrant base. Since the entire water system is below the freezing line, there is no water present in the hydrant system after use.
It dramatically reduces the risk of frostbite and frost damage to the hydrant. Part of the maintenance cycle for this hydrant is to check for water at the hydrant base, usually using a plumb line to check for moisture. If moisture appears, it could signify that the hydrant drain valve is not working correctly, leaving it open to freeze.
Components of the System
Fire Fighting Pumps & Accessories
Piping
Panels
Hoses
Couplings
Hose Reel
Branch Pipes & Nozzles
Fire Brigade Connections
Wiring & Instrumentations
Maintenance Valves
Also Read: L-Arginine – How does it work? Side-Effects, Precautions, And Warnings
Related Searches:
[fire hydrant workout]
[types of fire hydrants]
[fire hydrant distance]
[fire hydrant in india]
[fire hydrant images]
[fire hydrant meaning]
[fire hydrant valve]
[types of fire hydrants pdf]