Tips for Creating the Perfect Mud Kitchen – A mud kitchen is an outdoor play area where children can have time and space for messy natural playtime, usually in mud or a sandpit with various tools and complimentary toys following the Montessori method. This focuses on child learning through play, including cooking and imaginative creation in an outdoor area while using kitchen tools with mud, sand, and water. A mud kitchen usually involves space for play-work, a sink or bin container for water, shelving, bowls, and lots of mud! They are most valuable for development and play for ages one through seven; however, older children will no doubt enjoy messy mud play.
Mud Kitchen Benefits
A range of positive outcomes can be attributed to mud kitchen play, including:
Fine motor skills, including measuring, pouring and mixing
Health benefits include better mental health outcomes, self-confidence, and personal development
Childhood exploration and freedom of expression
Mud play strengthens the immune system due to dirt exposure.
Practical skills like learning to measure, weigh, fill, and empty a range of utensils and receptacles
Imaginative play
Language development and communication skills
The benefits of being in nature for brain and body development
Tip One: Utensils for Your Mud Kitchen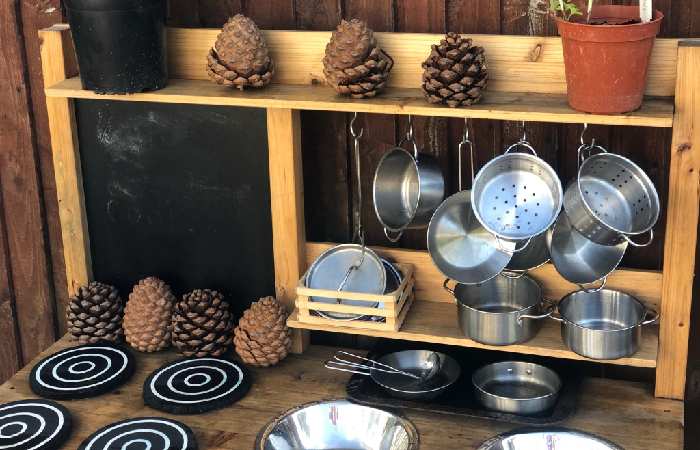 Mud kitchens are unique as the setup can depend on the individual family's interests, with parents and children both having a say. However, most mud kitchens have these items included:
Cooking pots and pans
Utensils to create various shapes and sizes of mud pies
Plastic storage jars
Muffin pans, pie tins, and pudding shapers
Mixing Bowls for stirring and mixing practice
A watering can
A small chalk or whiteboard
Measuring cups
An apron that is offered as a choice rather than a necessity
Tip Two: Safety 
Substantial evidence shows that mud kitchens are valuable for child development and learning; however, some parents worry about safety and any associated health risks and safety. There is also additional worry about the tools that could potentially cause harm. With this in mind, it's vital that your play area is set up to be age-appropriate, with only those items safe for your child's development age included for use. We also stress the importance of supervision without interference in play – uninterrupted and undirected play is the goal.
Tip Three: Use the Right Soil
As for the mud itself, mud kitchens are typically very safe when the correct topsoil is used. It should contain no animal faeces and hold organic plant matter only, with no little pebbles or stones that could cause choking. This type of soil is easy to purchase from your local garden centre – if you're unsure what's best, always ask the shop assistant for advice.
Speak To A Professional
There are many playground design companies that focus on creating functional, safe, and, most importantly, fun outdoor play and learning environments. Browse online for companies that offer a free consultation, advice, or even a personalised quote for your dream at-home play area.