6 Tips for Buying Scrubs in Bulk – Staying safe from germs and contaminants in healthcare facilities requires comfortable, durable scrubs. All medical professionals may need several sets of nursing scrubs to keep up with the demands of daily patient care. Depending on the dress code of the hospital facility, you may need to buy scrubs in various colors and patterns to identify your specialization or department. These tips can help you find the most suitable scrubs within your budget and meet your employer's professional standards.
1. Consider Your Type of Medical Practice
You need to decide what type of apparel suits your practice before you narrow down your suppliers. Think about the environment and type of medical practice you work in before you plan to buy scrubs in bulk. A 2019 review found that patients felt it was challenging to distinguish registered nurses from licensed practical nurses or nursing assistants. As a result, they believed uniforms communicated professionalism. According to a 2008 study, older patients found it more professional when nurses wore white uniforms.
Many hospitals and medical facilities color code their employees by unit, so quickly finding the right employee for the job is easy. For example, you can identify which nurse works in the intensive or general care unit by looking at their scrub tops.
You can check with your facility's dress code guidelines to see which policies apply to you and if your employer allows you to buy outside of them. For example, if you work in a pediatric setting with young children, think about buying from a supplier that sells scrubs in bright colors, patterns, and famous characters. On the other hand, the color and design of the scrubs you wear may need to be subtle or calming if you work with nursing home residents.
2. Check Out Different Brands
Scrubs are available at various prices. The best way to find scrubs within your budget is to determine what you can afford to spend before you start shopping. You can use the internet to shop for scrubs and research what each company offers. Review the selections of each supplier on their website. The company information, customer reviews, prices, bulk discounts, and shipping estimates are accessible online. You should ensure the uniform company you're considering provides women's and men's scrubs so you can buy them all in one place. You should also check if the supplier offers discounts for bulk buying scrubs or free shipping for orders over a certain amount.
3. Look for Special Features in Scrubs
Ensure your scrubs have the qualities you need to ensure that you are dressed comfortably and efficiently to focus on your duties. Choosing scrub tops with multiple pockets and utility scrubs pants is the best option if you need to carry numerous supplies during a long shift. Scrubs with hidden pockets make it easy to access additional personal items when needed. Consider unisex scrubs that are versatile, comfortable, and stain-resistant. Some scrubs even wick away moisture, which is ideal if you are sweaty and in constant contact with bacteria and bodily fluids. Stain-resistant scrubs eliminate the need to change clothes continually and help project professionalism.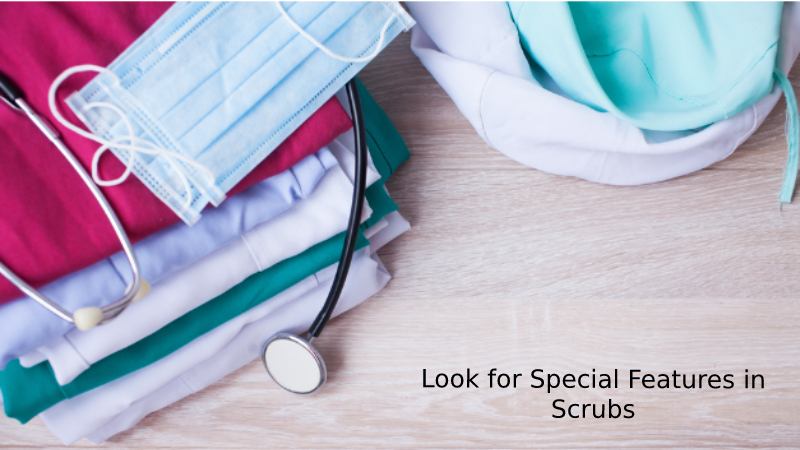 4. Get a Few Scrubs in Different Sizes and Colors
You should buy scrubs in several sizes to ensure they fit well and follow your facility's dress code. Every clothing company has unique sizing measurements, so you should look online at their website for their sizing chart. Ask their customer service representative about their scrubs sizing. Purchase at least two sets of scrub tops and well-fitting scrubs pants and check for fit and function.
If you're buying scrubs in bulk for several staff members, you must consider their skin tones, hair colors, and style preferences. In addition, you can ask them to let you know their preferred sizes when you order their scrubs. Ensure your scrub supplier offers scrubs in a wide range of sizes, from petite to plus-size. They should also have a good return policy, so you and your staff can try on the scrubs before deciding to use them.
5. Make Sure to Check for Quality
Before buying medical scrubs in bulk, buy a single pair as a sample. This allows you to more thoroughly examine the material used in making them. Make sure they are made from quality materials that won't fade or tear easily after multiple uses, like high-performance polyester-cotton blends. In addition, check that the material has some elasticity and features a blend like rayon-elastane or polyester-spandex twill. This ensures the scrub pants won't split in the middle or slip down your hips while you bend and stretch. It's also wise to check if there are any loose threads on your items before buying in bulk so you don't have any problems later on.
Scrubs come in many colors, but make sure you choose colors that will still look good after repeated washes. Darker shades fade faster than light ones, so consider this when selecting your colors. Wash the scrubs and see if the color bleeds or fades. Once you're sure the scrubs will last, you can buy more.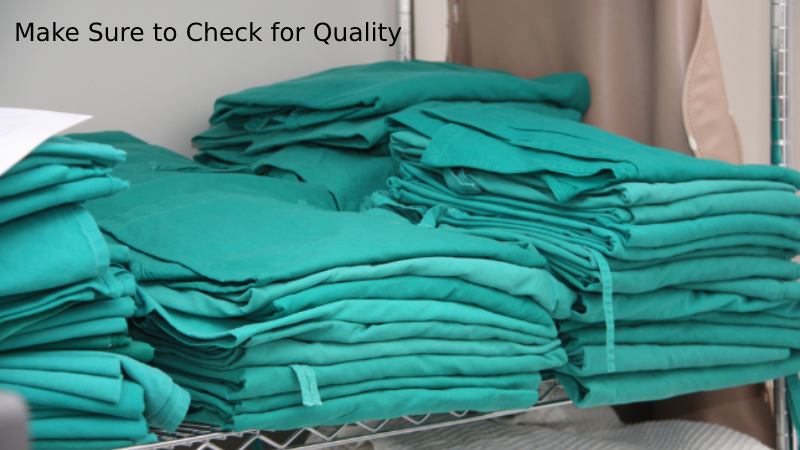 6. Buy Multiple Orders of Scrubs
After evaluating your scrubs and seeing their quality, you can place a bulk order for scrubs. There should be several sets of scrubs for you to rotate throughout the week. Keeping many scrubs is essential in a hospital or clinical setting, where germs and other contaminants can spread between medical staff and patients. Keep scrubs ready for multiple shifts by washing them all once a week on your day off. If you shop online for affordable scrubs, you can cut costs on shipping if you buy all the scrubs you need. Check the website to see if they offer a discount on bulk orders so you order your scrubs all in one go. In addition, you'll save time and energy by not having to revisit stores and websites to look for alternatives.
Choose the Right Scrubs for Your Workplace
Buying in bulk can help you save a considerable amount of money. However, the best scrubs should balance color, fit, quality, durability, and movement to ensure you get the best value from them. Therefore, knowing what to look for in scrubs when you purchase them in bulk is vital to ensure you are satisfied with what you buy.