Healthy Foods to Implement into Your Daily Routine –  We all want to eat better and be healthier. It's good for our bodies, both inside and out. Healthy food gives us energy, improves our gut health, helps us keep a healthy weight and makes our skin glow, but it can be hard to change our habits around food.
In addition to excellent skin care like using a firming eye cream, a healthy diet that is lower in processed foods helps improve skin conditions and can even reduce inflammation and breakouts. We will offer some ideas about how to easily include more healthy foods in your diet.
Add Herbs for Better Health
Herbs add flavor as well as nutritional value. Much of our processed food is already high in sodium, so cooking at home and using herbs for flavor can significantly reduce sodium intake. Some herbs such as cumin, cayenne pepper, lemon peel and garlic can lower the need for added salt while increasing flavor.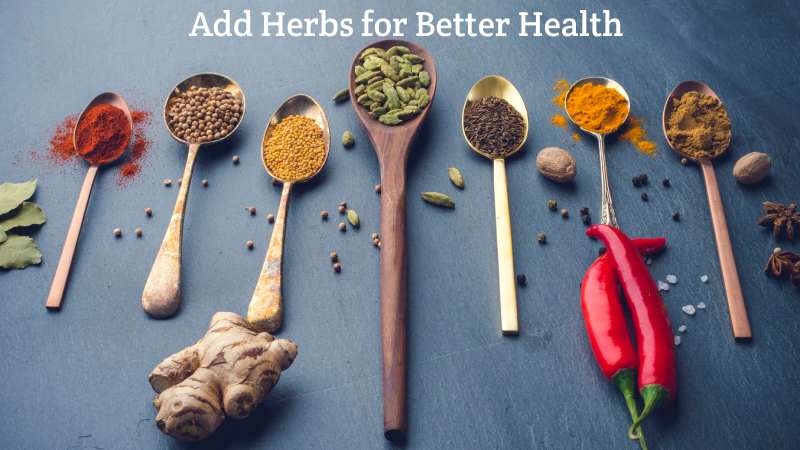 Lemon juice adds a bright flavor to food, as well as increasing the levels of vitamin C. The brighter and more colorful a food or spice means it will pack more nutritional value. Some herbs such as turmeric and chili pepper can even help reduce inflammation.
Replace Some Sugary Foods with Fruit
Processed foods also tend to be very high in added sugars. If you are trying to reduce sugar in your diet, consider replacing some of that sugar with whole fruit.
In baking, fruits such as bananas, dates, raisins and figs make wonderful cakes and muffins and can replace much, or all, of the sugar in a recipe. These fruits also add nutrients such as potassium and iron as well as dietary fiber.
Instead of a sugary dessert or snack try eating some whole fruit or a nice fruit salad. It may take a little while to get used to the change, but in no time at all you will find it just as satisfying and probably even more filling than packing in those empty calories.
Eat More Whole Grains
Whole grains have been getting a lot of good press lately. Replacing some refined flours or pasta with whole grains adds more nutritional value and helps feed healthy gut bacteria as well as reduces inflammation.
There are many whole grains to choose from, such as:
● Amaranth
● Barley
● Buckwheat
● Millet
● Corn
● Oats
● Brown Rice
● Rye
● Whole Wheat
● Wild Rice
To make getting your whole grains easier, cook a big pot early in the week and stash it in the fridge. Then at dinner time it's just a matter of popping portions in the microwave to reheat or add it to your stir fry.
You can even cook up some oats and have them on hand in the fridge for a quick and healthy breakfast. Just top with some fruit and a dash of maple syrup. Or go savory and cook the cooked grains with some leafy greens, tahini sauce and tofu cubes — there's no law that says breakfast has to be sweet.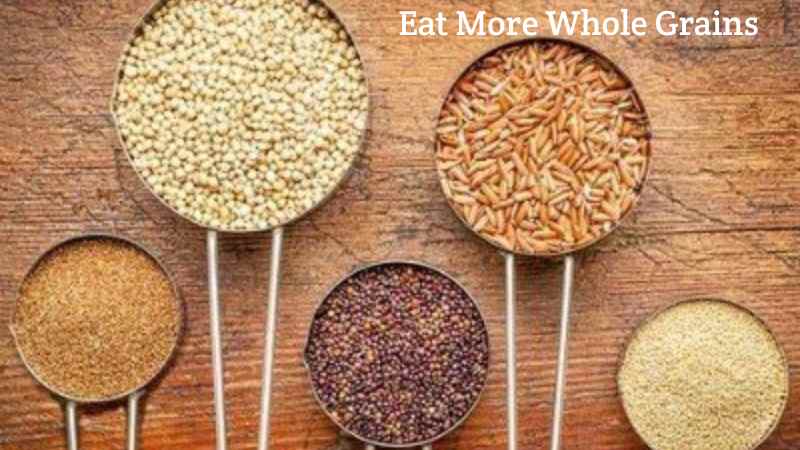 Even popcorn counts as a whole grain food! So pop your own and keep the toppings healthy by adding a little bit of olive oil, some garlic powder and nutritional yeast.
Drink More Water
We've all heard this a million times. And there's a reason for that! Most of us are not getting enough water and walking around dehydrated all day is stressful for the body. Drinking more water can reduce hunger cravings, keep your body functioning at top performance and even reduce dry eyes.
If becoming a water drinker is a challenge for you, start with replacing just one sugary drink with water for starters. Then work upward from there. With so many fun and functional water bottles on the market, it is super easy to have fresh, cool water on hand wherever you go.
Make Your Own Frozen Veggies
Choose a day of the week to do some food prep. While your whole grains for the week are cooking, put on some music or a podcast and spend some time in the kitchen chopping vegetables. Place them in plastic bags and store them in the freezer.
Versatile veggies that freeze well are:
● Corn
● Peas
● Broccoli
● Cauliflower
● Carrots
● Green Beans
● All types of squash
● Spinach
● Kale
● Chard
● Onions
● All types of peppers
● Celery
If you tend to forget about foods once they disappear into the freezer or fridge, get a magnetic white board for the fridge door and make a list of what's prepped and ready to go. This will help prompt you to use what you've got.
For a weeknight dinner, just throw in a handful of veggies into some of your precooked whole grains and pop it in the microwave to steam, add some lean protein like legumes, tofu, chicken breast or salmon, you've got a quick and healthy meal.
Healthy Food Is Part of Good Self-Care
Eating a healthy diet is just part of an ideal self-care regimen. Making sure to exercise, get enough sleep, and take good care of your skin not only makes you look better, but it makes you feel better.
Taking walks, keeping your bedroom cool and quiet, moisturizing your skin, using a healing lip serum and eating a healthy diet can all improve your health and your quality of life. Making small changes in your daily routine and building on them can lead to success.