IV Therapy: Kinds, Pros, Cons, And More – Intravenous (IV) therapy is the process of delivering medications, blood, nutrients, and other liquids directly into the vein through the circulatory system. This bypasses the digestive system, allowing the body to take the fluids faster compared to oral administration. 
It's said that IV therapy also has higher absorption rates, ranging from 90-100% as opposed to the 20-50% of oral administration. This is because the fluid directly goes into the organs where it's needed.
During the process, a medical professional (usually a nurse or doctor that has a license from authorities in the United States), inserts a cannula into the patient's vein. The insertion is usually done in the arm. Then, a tube connected to an IV bag will be attached—this bag contains fluids that'll pass through the tube and enter the vein.
If you need to undergo IV therapy, you may visit IV Therapy Scottsdale or other similar services in your area. However, it's best to consult your doctor before doing so, especially if the therapy is a crucial part of your medical treatment. 
If you want to learn more about IV therapy, this post is here for you. It'll discuss everything about IV therapy, including its kinds, pros, cons, and more. Keep on reading to learn more. 
What Are The Kinds Of IV Therapy?
There are two kinds of IV therapy: drip and push.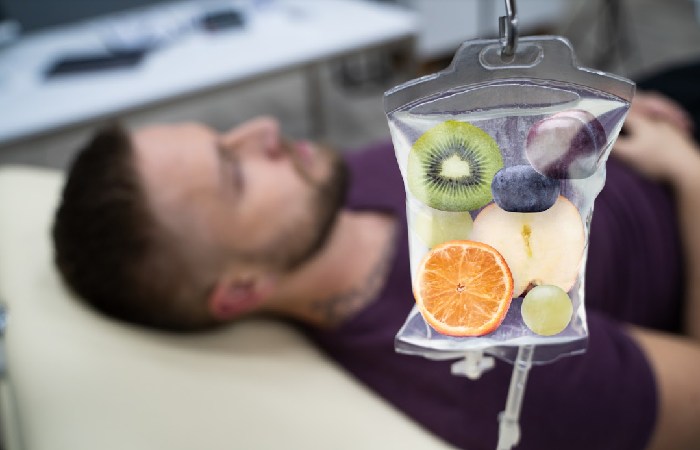 IV Drip
An IV drip is an intravenous treatment involving a small catheter inserted into the vein. The fluid inside the IV bag slowly drops and enters the bloodstream with the help of gravity alone, without an artificial force to speed up the process.
Once the process is done, the needle will be quickly removed and disposed of. IV drips may take 45 minutes to one hour, depending on the volume of fluid to be administered—250 ml to one liter of fluids per session.
Today, IV drips are also used in body enhancement processes, such as skin whitening, tightening, and brightening. 
For whitening, the main IV fluid contains high levels of glutathione, a powerful antioxidant that can lighten your skin tone.

For tightening, the main IV fluid contains high concentrations of collagen, a protein that can strengthen skin structure and prevent saggy skin. 

For brightening, the main IV fluid contains high levels of vitamin C, a vitamin that brightens skin tone and reduces the appearance of dark spots for a younger look.
Aside from those, IV drips can be used to rehydrate a dehydrated person due to extreme heat or physical activities. The process is simple, with little to no risk of complications. 
You can read books, use your mobile devices, and relax during the procedure. For more information, you may visit IV Therapy or other similar services in your area. 
IV Push
An IV push is similar to IV drips in terms of absorption rate and plastic catheters. However, it uses a syringe to push the fluid into the bloodstream. This makes the process much faster than IV drips.
Because IV push uses a syringe, the volume of the fluid to be administered will depend on the size of the syringe. It can deliver 30-60 ml of fluids for 15-30 minutes. Also, the process requires supervision at all times due to its complex nature.  
What Happens During The IV Therapy?
Here's what could happen during an IV therapy procedure:
First, the attending healthcare professional will locate the right vein where the cannula will be inserted. It could be in your wrist, forearm, the back of your elbow, the top of your foot, or the back of your hand. 

If there are no visible veins, the nurse may use ultrasound to guide the needle to the vein. This is a common scenario for babies and obese individuals because of the layer of fat that hides the veins.

After locating the right vein, the nurse will sanitize the area with cotton and alcohol. This helps prevent contamination and infection before inserting the needle. They can also use medical tape to hold the cannula. 

After the needle insertion, the nurse will connect the cannula to the IV using medical-grade thin tubing. Then, the infusion will proceed as follows.

During the infusion, the nurse will regularly check the cannula. This is to ensure that there's no swelling, pain, or inflammation where it's inserted and that the IV flows properly without obstructions.

Once the process is done, the nurse will disconnect the tubing from the cannula and remove the needle from your vein.

After removing the needle, the nurse will apply enough pressure to the insertion site to prevent or reduce bleeding. They can also cover the area with a small gauze pad, a cotton ball, or medical tape. 
This is the standard IV therapy procedure for outpatient treatment. If the condition calls for regular IV treatment, the nurse may leave the cannula attached to the patient. 
What Are The Pros Of IV Therapy?
Here are the advantages of using IV therapy:
Convenient Procedure:

IV therapy is a convenient way to deliver essential fluids to the body. Plus, the cannula can be left for several days—ideal for patients required to undergo repetitive IV sessions without repeated needle insertion.

Fast Administration:

IV therapy has a fast absorption rate, allowing the nutrients, medications, and other fluids to be used by the body immediately and helping patients recover quickly. 

Efficient And Effective:

IV therapy is an efficient medical procedure. It bypasses the digestive system, allowing the medications, nutrients, and other fluids to reach the organs where it's needed more quickly. 

Health And Wellness:

IV therapy can be used to administer essential fluids, such as vitamins and minerals, to support the immune system, keep the body hydrated, promote healthy and glowing skin, and improve energy levels.

Hangover Relief:

IV therapy can be an effective way to alleviate hangover symptoms. An IV bag for hangovers includes fluids for rehydration, vitamins for an energy boost, and medications for relieving painful symptoms. 

Migraine Relief:

Migraines are extremely uncomfortable and debilitating. These conditions are often triggered by diet, environment, medications, and stress. An IV bag for migraines contains vitamins and medications (e.g., anti-nausea) to mitigate symptoms immediately.

Deficiency Treatment:

IV therapy may help treat conditions that can lead to nutrient deficiencies, such as cystic fibrosis, celiac disease, and Crohn's disease. With IV therapy, the nutrients may reach the cells and organs immediately, preventing further symptoms.

Good Cardiovascular Health:

IV therapy can help maintain a healthy cardiovascular system. It can administer essential fluids, such as calcium, arginine, magnesium sulfate, and tri-amino, to regulate blood circulation and lower blood pressure.

Anxiety Relief:

IV therapy may help relieve anxiety symptoms and promote relaxation. It can calm your senses, help you sleep tightly, ease your muscles, and boost your immune function.
IV therapy can help manage a wide range of health conditions. Nevertheless, it's best to consult your doctor before receiving IV therapy to prevent and reduce the risk of complications.
What Are The Cons Of IV Therapy?
Like other medical procedures, receiving IV therapy may put you at risk of complications. These include:
Abscess development;

Skin necrosis, a condition where skin cells die prematurely;

Cellulitis, a condition where the skin's deep layers swell;

Hematoma, a condition where blood clots underneath the skin swell;

Blood clot formation;

Allergic reaction (e.g., the base material of the medical tape used to keep the cannula in place);

High vitamin concentration can cause problems (e.g., too much vitamin A can cause headaches or even death);

IV therapy isn't recommended for people with heart and kidney problems;

Heart attacks may occur due to high concentrations of potassium; and the like. 
Severe complications are more likely to appear if the IV is still attached to the veins for more than three consecutive days. Also, the risks may increase if the patient isn't able to complete the insertion or if the procedure isn't carried out accordingly. That's why receiving IV therapy under the supervision of medical professionals is highly recommended. 
What Are The Vitamins And Minerals Can You Receive Via IV Therapy
Below are the vitamins, minerals, and medications commonly used in IV infusion therapy.
Taurine is one of the most powerful supplements that serve many functions. It can help regulate calcium levels in the body, manage the central nervous system (CNS), promote digestion, boost the immune system, and improve eye health. And it can balance the number of electrolytes circulating in the body.
Vitamin B complex is a combination of eight B vitamins, namely: 
B1 (thiamin);

B2 (riboflavin);

B3 (niacin);

B5 (pantothenic acid);

B6 (pyridoxine);

B7 (biotin);

B9 (folic acid); and

B12 (cobalamin).
Vitamin B complex plays a crucial role in energy production, metabolism, and blood sugar maintenance. It can help improve your condition when you're sick or just a bit unwell. And you can take one to prevent migraines.
Vitamin C, or ascorbic acid, is one of the most important vitamins your body needs. It helps boost the immune system, creates new blood vessels, increases collagen production, and builds muscle. If your body lacks vitamin C, it'll be easier to contract viral infections and get sick. 
Magnesium plays a crucial role in the body's enzyme activity. When taken properly, magnesium may help relieve anxiety symptoms, especially in magnesium-deficient patients. Other health aspects that may benefit from magnesium intake include bone health, heart health, diabetes, and calcium absorption. 
Most doctors often recommend oral pain relievers, such as naproxen tablets, to manage pain due to physical injuries, such as sprain, swelling, and inflammation. But it takes too much time for them to work. If you need immediate results, consider using IV therapy instead. 
An IV bag may contain anti-pain fluids that can help relieve pain and reduce swelling. It contains essential nutrients to prevent further damage and stop inflammation too, such as vitamin C, B vitamins, calcium, and magnesium. 
IV therapy administers essential fluids, such as vitamins, minerals, and electrolytes. This can help ease your nausea and make you feel better. Plus, it contains anti-nausea medications for faster relief since it bypasses the gastric system completely.
Zinc is an essential mineral found in many plant and animal sources. It helps improve skin health, the immune system, and cell development. It's also known for combating acne, irritation, inflammation, and other common skin conditions.
Since your body can't produce zinc naturally, you can either obtain it from food sources, dietary supplements, or IV therapy. 
Vitamin B12 is a popular add-on to IV vitamin infusion therapy. It helps manage weight, promotes a healthy digestive system, and boosts energy production. Taking significant doses of vitamin B12 can help improve your metabolism, helping you break down proteins, carbohydrates, and fats effectively.
Glutathione is a powerful antioxidant with a wide range of functions in the body. It can help develop new DNA strands, boost the immune system, and facilitate enzyme activity. Also, it can help prevent the development of cancerous cells by breaking down free radicals in the body. 
In some countries, glutathione IV therapy is extremely in demand due to its whitening effect. This promotes an even skin tone, fades dark spots, reduces the appearance of fine lines and wrinkles, and brightens the skin for a youthful glow. 
How Much Does IV Therapy Cost?
The cost of IV therapy typically ranges from USD$50 to USD$1000, depending on the main ingredient, treatment provider, and location. Nevertheless, most intravenous treatments cost between USD$200 to USD$300. 
Here's a quick summary of some IV therapies and their costs per liter of fluids:
NAD+ Drip: USD$100 to USD$1,000;

Hangover Relief: USD$200 to USD$300;

Dehydration Relief: USD$150 to USD$300; and so on. 
IV therapy can be received via at-home mobile services, but it's more expensive. This is ideal for people with limited mobility due to several health conditions.
What Should You Do Before Receiving IV Therapy?
Here's a quick snapshot of the things to do before the treatment for a great IV therapy experience:
Drink plenty of water for your veins to be more visible. Additionally, it helps the body to be more responsive to the treatment.

Relax while waiting for the therapy to start to release any tension. 

Eat snacks with protein to prevent nausea due to an empty stomach.

Bring your favorite books and music to relax while waiting for the therapy to complete.

Wear comfortable clothing and bring a blanket in case you get cold.
Final Words
IV therapy is the process of administering fluids directly into the bloodstream through veins. It allows healthcare professionals to deliver medications quickly and efficiently. Although the treatment is common, it carries a potential risk of complications, such as bleeding, swelling, and bruising. To prevent complications, make sure to receive IV therapy under the supervision of a medical professional.