What Are Mouth Ulcers And How Are They Treated? – Mouth ulcers, also known as canker sores or aphthous ulcers, emerge in soft tissues in your mouth such as lips, palate, inner chicks, or gums. They're triggered mainly by injuries, stress, and hormonal changes. This condition can affect anyone, irrespective of age. And although mouth ulcers aren't dangerous, they may indicate severe health conditions such as HIV and AIDS, celiac disease, immune disorders, diabetes, or inflammatory bowel disease.  
Fortunately, mouth ulcers aren't contagious and can heal on their own, and taking proper treatments can help relieve pain and other symptoms. This is what the following read is all about. But before getting into the treatments, it is important to determine the type of canker you may be suffering. 
Types Of Canker Sores
There are three main types of canker sores, including the following:
Minor Canker Sores:

These are the most common type of mouth ulcers. They're small, oval, or round, measuring under 5mm. They heal in a week or two and leave no scarring.

Major Canker Sores:

Unlike minor canker sores, these are more extensive and deeper, measuring over 10mm, but less common. They're irregularly shaped and can be very painful. Also, they can take weeks or months to heal and leaves scars.

Herpetiform Canker Sores:

These are the least common and usually appear on the tongue. They're pinpoint-sized and appear in clusters but can merge to form large sores. They're generally very painful but eventually heal within a month without scarring. They are known as herpetiform because they're similar to sores caused by herpes.
Canker sores shouldn't be confused with cold sores. Canker sores appear inside the mouth and aren't contagious. On the other hand, cold sores are fluid-filled sores that form on the outside of the mouth and are infectious.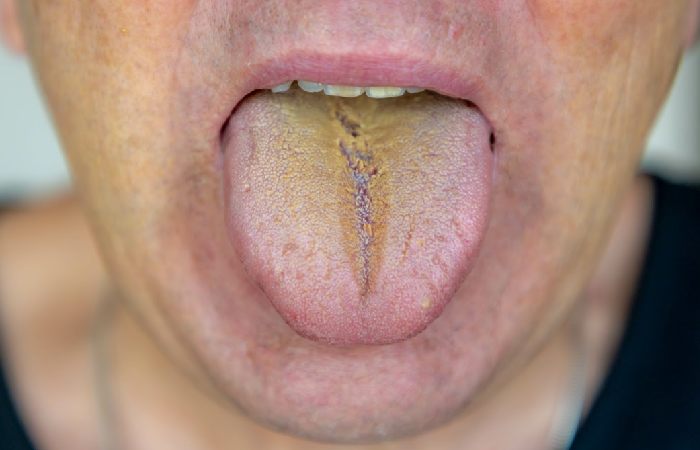 Symptoms Of Mouth Ulcers
Identifying canker sores isn't hard. They appear as sores around your inner mouth. But the symptoms vary depending on the cause. The common symptoms include:  
White, yellow, or gray sores with reddish boundaries 

Pain and discomfort around the sores, especially when eating or talking

Redness and swelling in the area around the ulcers

Soreness around the canker sores

Bad breath due to bacteria accumulation in the sores

Difficulty chewing, drinking, or talking.
These sores are usually smaller than 5mm. However, several ulcers can merge, forming a larger canker sore.
Causes Of Mouth Ulcers
While there are no exact causes of canker sores, some risk factors can trigger them. These triggers include:
Mouth injuries from bruising, accidental bite, prior dental work, or sports injury

Dental braces

Oral bacteria

Insomnia

Emotional stress

Hormonal changes such as during pregnancy or menstruation

Bacterial or fungal infections in the mouth

Mouthwashes or toothpaste with harsh ingredients such as sodium lauryl sulfate

Nutrient deficiencies, such as vitamin B12, iron, folate, or zinc deficiency
Furthermore, studies suggest that children, adolescents, women, and individuals with a family history of canker sores are at higher risk of getting them.
How To Treat Mouth Ulcers
Aphthous ulcers don't necessarily require treatment, as it has been found to heal by themselves within a month. However, treatment may help alleviate symptoms, especially if the sores affect your daily activities, such as eating, talking, or drinking.  
Before going to the dentist, there are several things you can do at home to promote healing. These include:
Avoid Irritating Foods:

Some spicy or acidic foods can irritate and worsen canker sores. Therefore, avoid chocolate, peanuts, strawberries, cheese, and coffee.

Practice Good Oral Hygiene:

Maintaining a clean mouth can help prevent infection and accelerate canker sores healing. Just remember to use a soft-bristled toothbrush and a non-alcoholic mouthwash. 

Saltwater Rinses:

Guggling warm water and salt can help reduce inflammation and promote healing.

Honey Or Aloe Vera Gel:

You can also apply small amounts of honey or aloe vera gel directly to the sores to soothe and heal the area.

Manage Stress And Get Enough Rest:

Stress and lack of sleep weaken your immune system, making it difficult for your body to fight infections. So, look for ways to manage your stress, such as exercise, meditation, and getting plenty of sleep.

Drink Plenty Of Water:

Drinking a lot of water can help keep your mouth moist, helping the sores heal. Mouth dehydration can worsen your sores.
If your sores are persistent for over a month or are extremely large, it may be best to see a doctor. The healthcare provider will examine you and develop the best treatment for you.
Your doctor can provide the following options:
Oral Pain Relievers:

The doctor can provide over-the-counter medications such as aspirin or ibuprofen to help relieve pain and inflammation

Corticosteroids:

These prescriptions can be in the form of a mouth rinse or gel and helps reduce inflammation and promote healing. However, they shouldn't be used by children under 12 years.

Antibiotics:

If a bacterial infection causes

canker sores

, your doctor can prescribe antibiotics to clear the infection.
These medications should be taken as directed by the healthcare provider. Also, if you're on other medications, it's wise to tell your doctor to avoid drug interactions.
Conclusion
Mouth ulcers are a common condition affecting many people. Everyone experiences them at some point. Fortunately, they're not fatal, as they heal themselves in a week or two. Even so, home remedies and prescription medication can help relieve the symptoms and promote healing