How to Personalize Your Work Uniform as a Nurse? – As a nurse, your scrub uniform is essential for a lot of reasons. Your scrubs save you time in the morning and money at the mall, they create a sense of belonging between you and your colleagues and within the landscape of healthcare, they keep you looking professional, and they keep you performing like a professional. Unfortunately, in the process, your scrubs uniform can also potentially leave you feeling a loss when it comes to your sense of identity or the ability to showcase it.
Luckily, no matter what your role or restrictions may be, there are always underappreciated details to incorporate and overlooked pieces to personalize! From updating your nursing outfit with cute scrub sets that actually project your personality and suit your style to amplify your ensemble with accessories, especially for nurses, the options are only limited by your personality itself!
Perfect Your Color Palette
First and foremost, you'll want to note the colours in your uniform if you have a specific set of scrubs assigned or a particularly strict dress code. Along with what these colours are, you'll want to note what other colours complement them best, and even which of those colours complement YOU best. By establishing a colour palette that works with your uniform and complexion alike, it will become easier to begin the process of building a work wardrobe where all of the pieces can be mixed and matched to create a look that's personally and professionally appealing – and looks amazing on you!
Play with Patterns
Fun and tasteful printed scrub tops and bottoms, no matter what the pattern, is the best way to personalize your work uniform. As a tip, you'll want to buy printed scrubs as a set – but you'll more than likely always wear the pieces individually! A printed piece paired with a solid (in a complementary colour) will be a subtle but significant and foolproof way to showcase your style.
Add Appropriate Accessories
Many roles that require uniforms also have strict dress code policies that determine what accessories can or can't be worn with their uniforms – and nursing is no exception. That said, these are also roles that have seen accessories created especially for them, with these policies in mind. When combined with the clean slate that is your scrubs, there is the potential for these special accessories to really pop, so consider:
Buttons and patches, whether pinned to your lanyard or sewn onto your medical bag, can be an amazing way to pack a punch of personality into your uniform.
Lanyards are always welcome amongst stylish professionals considering how subtle they are and how significant of a glimpse into your personality they can be. In part, this is because, when needed, they can be easily tucked into your pocket. But when you really want to showcase your personality, your lanyard will look great left dangling from your pocket or hanging off your neck!
Hair accessories like scrunchies, clips and even headbands are both fun and functional – as a nurse, it's undeniable that you'll need a way to tie your hair back.
The supplies that you use daily as a nurse are essential and worth every penny you invest in them, but not just for performance's sake! Your confidence, personal brand and professional image are all impacted more than you may imagine by the tools that you carry and wear. So, from a pink stethoscope hanging nicely on your chest to a unique badge reel securing your ID, make sure you're outwardly expressing your personality and enthusiasm for the role WHILE you work.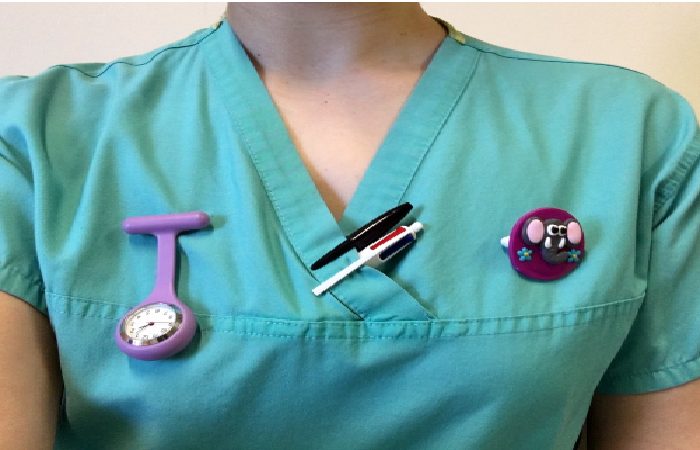 Shape Your Silhouette
While you may feel unflatteringly bound to baggier-than-you're-used-to pants or a boxy-beyond-belief top, the ways to make it work are not quite so limited! By simply noting the shape and a silhouette that your scrubs create (along with what you like and don't like about it), it can become far easier to figure out the perfect pairings to conceal what you don't like complement and call attention to what you do.
Delight Them with Details
Not only are there many details and features to choose from in scrubs that will help to display your personality, but if you're a nurse who has a bit more freedom in your dress code, these details can even help you improve on certain aspects above such as achieving your sought-after shape. So, consider:
Neckline style and details like a mock wrap, v-neck, round, square, buttoned, zippered and more can frame your face and suit your fashion preferences and shape.
Pockets are a feature you need, but depending on whether they are patch pockets, chest pockets, hidden pockets, accessory pockets or even only the pockets on your pants, they may end up doing a lot more than they were originally intended to do – from working as an accent to shaping your silhouette.
Embroidery can be a subtle but significant and professional touch to your scrubs. Custom embroidered scrubs are stylish and luxurious and help to show this side of your personality and show your colleagues and patients that you're proud of your role.
Leg openings are an overlooked detail because scrub pants tend to be comfy and functional no matter what the bottom of the leg is like, but it is a detail that can make all the difference where style is concerned. Not only can the wrong leg opening on your scrub bottoms throw off the balance and shape of your outfit, but it can send the wrong message, too. For instance, jogger scrub bottoms are a style that tends to look fairly active, outdoorsy or potentially even cozy. So, if you're hoping to look sharp and professional when you pair them with a fitted mock wrap scrub top and cardigan, you may find the top and bottom halves of your outfit competing and, as a result, clashing!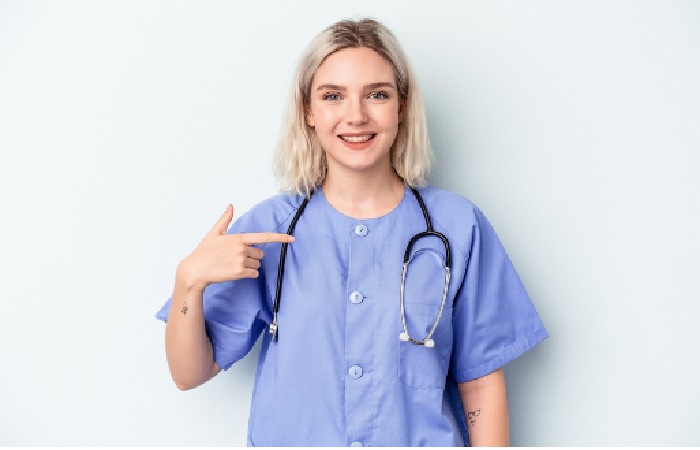 Lean Into the Look Even If You Don't Like It
No matter what dress codes you're bound to and how you feel about your nursing uniform on a personal level, it's important to look at your scrubs first and foremost as a symbol of your profession. While you and every other nurse in your unit may be dressed the same, you don't have to be seen as the same people. The options for personalization vary as much as the personalities themselves!