4 Things Men Can Add to Their Mornings for a Healthy and Clean Routine – Self-care for men starts with a clean and healthy morning routine. If you're looking for the brightest ways to enhance your regimen, read the following list of helpful suggestions. You'll learn about the best teeth whitening products, along with men's hygiene items to help you start your day. You'll also discover more about the benefits of clean ingredients and why they matter to guys.
1. A Hands-Free Toothbrush
Whether you wake up early or you need to multitask to get out the door, begin your day with a hands-free toothbrush. These innovative devices include the latest technology in oral hygiene, like blue light to kill germs and accelerate teeth whitening. It'll free up your hands so you can save time. You'll notice that your brushing is more effective as well.
Every man wants a white, healthy smile. When you pair your hands-free toothbrush with clean and cruelty-free whitening toothpaste or whitening gel, your smile will stay bright and fresh. A gum massager helps prevent disease by stimulating blood circulation, while a built-in timer will ensure you're brushing as recommended by the American Dental Association (ADA). Simply use the bristled head and foaming toothpaste for brushing and the tray and whitening gel for teeth whitening. You'll be impressed by how your teeth look and feel when you're done.
2. On-the-Go Whitening Products
On-the-go teeth whitening is more popular than ever. Men like using these travel-friendly products because it helps boost the effectiveness of their at-home whitening treatments. If you're a guy who notices discolouration or stains on your teeth, stain erasers will make it easier to lift yellow blemishes or brown spots. You can use them after your brushing routine or before you start your day.
When it comes to stain erasers, easy-to-use applicators ensure you don't make a mess in your bathroom. Feel free to touch up your smile in the morning while preventing new stains from setting. A sugar-free fresh mint flavour will keep your breath fresh so you can feel confident all morning long. Since these products usually have airtight applicators, you can take them with you for later.
A teeth whitening pen with clean and clinically proven teeth whitening gel is another way to give you an incredibly white smile as you leave for work or tend to your responsibilities. You'll quickly prevent new stains from setting so you can feel confident about how you look. Reach in between teeth so you can remove stains or yellowing from tight spots. Other popular on-the-go whitening products for men include travel-size sonic toothbrushes and TSA-compliant tubes of mint whitening toothpaste.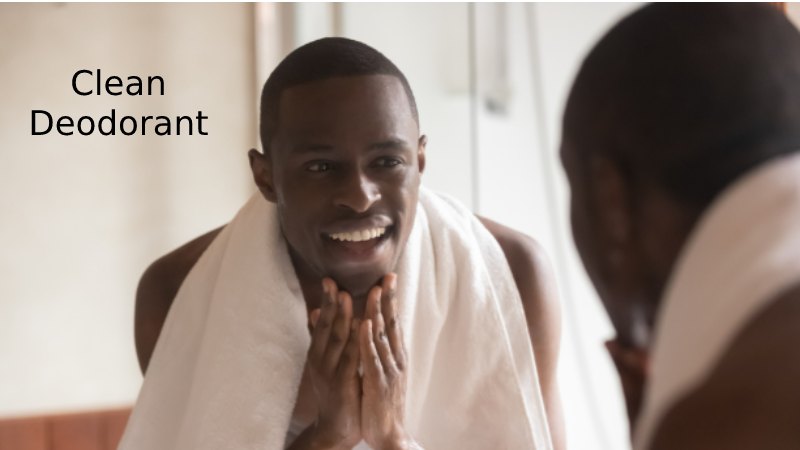 3. Clean Deodorant
Most men use some form of deodorant to stay fresh during the day, but not all of them are clean and healthy products. Unfortunately, some deodorants include harmful ingredients for the body, like aluminium salts and ethyl alcohol. They may also include other components considered unsafe for beauty and hygiene products, such as phthalates and triclosan. Thankfully, there are easy ways to avoid hazardous ingredients and enhance your morning routine. All you need to do is shop for a deodorant that is considered clean and safe for a guy's body.
Some men like natural products, but certain essential oils can irritate the skin. Be sure to read all ingredients carefully before choosing a deodorant. If you'd like, you can test it on a small part of the skin and discontinue use immediately if it bothers you. You can consult with a physician if you have questions about certain elements that can cause sensitivity, like baking soda or tea tree oil.
Many formulas include coconut oil or sunflower butter to help it glide over the skin. Along with those, you can find products with natural yeast and aloe. In general, the best men's clean deodorants are free of aluminium and include natural minerals to keep your underarms dry. Others may have everyday items like tapioca or cornstarch to help avoid irritation while keeping things gentle on the sensitive parts of your body. Use as directed as you begin your morning. You're sure to feel great about your health and the eco-conscious choices you're making for the planet!
4. High-Quality Facial Cleanser
It's impossible to build a clean routine without thinking about your face. A man's facial cleanser should remove dirt and buildup while avoiding blemishes. At the same time, it should feel gentle on the skin. If you don't currently use a clean product, there are plenty of them out there made for men. Many of them are made with cruelty-free and naturally derived ingredients that are tested for quality. While shopping for the right cleanser for your needs, look for a product labelled clean so you know it's free of unsafe beauty ingredients like propylene glycol and formaldehyde.
Some of the best products include antioxidants which help to brighten and exfoliate for healthier-looking skin. Steer clear of components like parabens and look for items that contain vitamins and ingredients made from herbs and vegetables like turmeric and tomatoes. Many of the gentlest cleansers contain oats to support healthier skin without stripping it of its natural oils. Use the products as directed for a healthy routine that helps you start your day refreshed.
Creating a Positive and Effective Morning Regimen
An effective morning routine will set the tone for the rest of the day. Choosing the right products for your hygiene and health will help you feel your best. You will also prevent problems with your wellness in the future.
Clean teeth whitening products and facial cleansers are an excellent way to keep your body safe while you look amazing. You may even benefit long-term from clean body products like deodorant. Include positive affirmations and a complete breakfast for the best morning possible.