Eyebrow microblading is a semi-permanent hair-by-hair tattooing technique that allows you to showcase perfect and natural eyebrows that tailor your face's shape. Forget about makeup every day and show your look.
In recent years, eyebrows have begun to play an essential role in makeup because their shape can significantly affect the image of the face for better or worse.
However, due to excessive waxing, scars, lack of asymmetry, or lack of hair in some areas or entirely, either due to genetics, chemotherapy, or alopecia treatment, many people do not feel relaxed.
In these conditions, or simply if you do not want to put on makeup every day, there is a semi-permanent tattoo technique, microblading, which adjusts the shape and filling of the eyebrows and gives them a very natural look.
This technique comes from Tebori, a traditional Japanese tattoo. A scalpel-like instrument that contains up to 14 needles, which is about three times thinner than those used for micro-pigmentation or tattoos, is used.
With their help, liquid pigments are injected into the very superficial part of the epidermis, tracing them as if they were hair to give the eyebrows a more natural look. It is vital to have a professional who does it with hand. As a result, it will depend on their experience.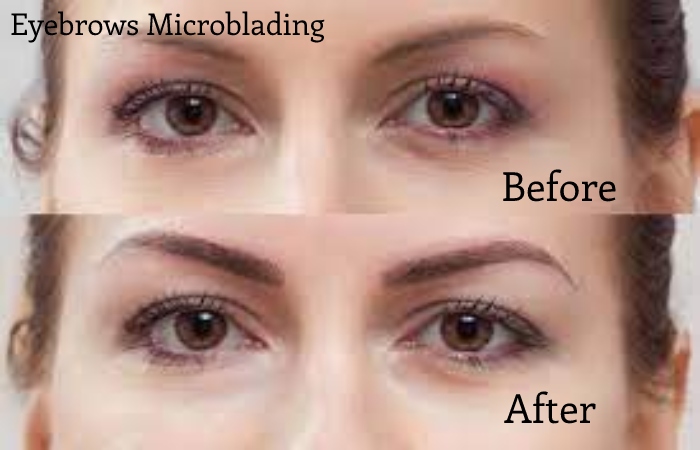 Advantages of Eyebrow Microblading
Microblading is a good option if you want to try to change the size, thickness, or shape of your eyebrows naturally; This procedure is performed "hair by hair" and is temporary since the tattoo on the epidermis lasts from one to two years. It is appropriate for equally men and women, regardless of skin tone.
The pigments used in microblading are mineral-based, so they are hypoallergenic, reducing the risk of allergies. In addition, the colours obtain the exact shade that best suits each person, giving your new eyebrows a natural look.
And the great advantage is that you do not have to paint your eyebrows every day. And you can enjoy an expressive look that continuously adapts to the characteristics of your face. On the other hand, it is also a great option to review the appearance of your face with different eyebrows without the changes being permanent because they will fade over time.
Cosmetologists perform the Microblading techniques under local anaesthesia. So, you will not feel pain, and the results will be visible immediately after the session. It is correct that, as with tattoos, skin cuts develop so that the pigments adhere, but they usually restore in a few weeks. You may swim, run or wash your face, and your brows will remain flawless.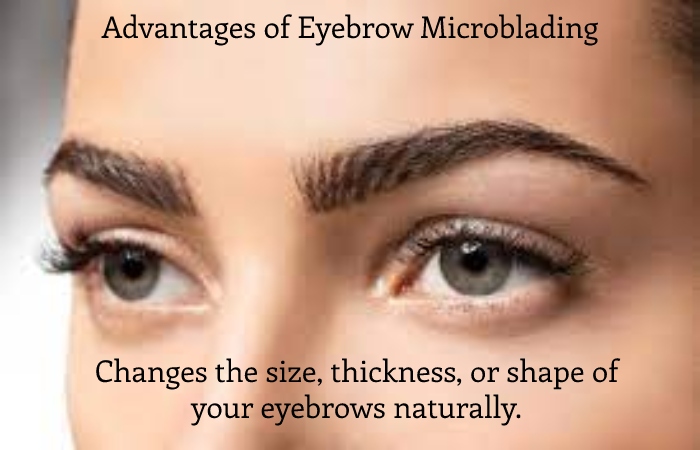 Disadvantages Of Eyebrow Microblading
This technique has very few drawbacks. However, It is a recommendation that you should be aware of some unique situations.
These cases are pregnancy, allergy to pigments, a history of keloids –excessive growth of scar tissue. And also if you have diabetes, haemophilia, hepatitis, or taking anticoagulant medications. In addition, you must consult the doctor before performing this semi-permanent tattoo technique.
It is indispensable to go to specialized centres that have qualified personnel to achieve a natural appearance. Striking the right amount on the skin with the needles, measuring well so that the eyebrows are harmonious. And also, making a good mixture of pigments to achieve the most suitable shade for each person.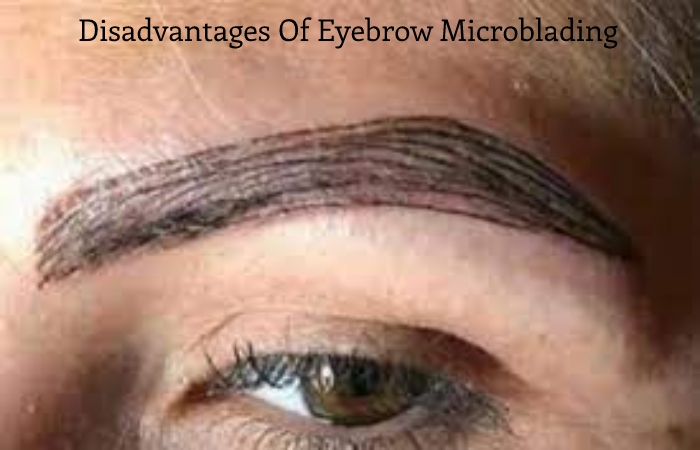 How To Do Eyebrow Microblading Step By Step?
If you are thinking of doing microblading to improve the appearance of your eyebrows, remember these points.
The first thing you have to keep in mind is that the treatment usually lasts between an hour and a half and two hours.
Be wary of centres with low prices and those that offer sessions that last less than that time. For your peace of mind and straightforward your doubts, we clarify how the process is.
It would be the step by step to show off your new eyebrows :
First, 24-48 hours before the treatment, a pigment allergy test will be carried out. This way, you can avoid possible allergies or skin reactions. If there is no problem, begin by cleaning the area of treatment well to remove traces of makeup or other substances that can cause infections.
Once you outline the shape and edges of each eyebrow with an eyeliner pencil, you may show the result to the client. The client must sign her design consent to begin the process with the needles.
Before starting, the cosmetologist anaesthetizes the area with a topical anaesthetic cream or gel. Let it act for a few minutes. The specialist will wet the tool with the needles and, in a bevelled manner, trace the hairs of different sizes and directions to show a natural appearance.
When finishing with an eyebrow, the cosmetologist usually rubs to embed all the pigments well in the cuts. Then they cleaned it to see the result of the first phase of microblading.
Tips And Care After Eyebrow Microblading
If you want the microblading to last as long as possible and look almost like the first day, you should have particular habits and care for that area of eyebrow skin. The days after the session, use 70º alcohol twice a day to disinfect the site and help the cuts heal.
Avoid physical exercise for two days after treatment; You should also do without public saunas and swimming pools for the first two weeks. It would help if you did not expose to the sun during the first month, as it could irritate the skin of the eyebrows.
The week after performing the microblading, you should start to hydrate the moisturizer or coconut oil area. Avoid aggressive skin treatments, such as microdermabrasion or chemical peels; this way, you will protect the colour. On the other hand, if you don't like your tattoo, you can always remove it. Tattoo removal Sydney is doing it for their clients for years now. Find your local expert and go for a consultation. It's important to feel good in your own skin, remember that!
Also Read: Hair Extensions – Types, Extension Maintenance, How Long Do Hair Extensions Last?
Related Searches:
[microblading eyebrows near me]
[microblading eyebrows cost in india]
[microblading near me]
[microblading eyebrows before and after]
[how long does microblading eyebrows last]
[microblading meaning]
[microblading cost uk]
[does microblading hurt]