Marula oil is obtained from the seeds of the light yellow fruits of the marula tree. Marula trees are native to southern Africa, where they grow wild.
The colour of the oil varies from light to golden yellow and orange. There is hardly any smell, so it is often used as a base oil for oil blends or essential oils. The production is quite complex, which makes marula oil one of the more expensive oils.
It consists mainly of oleic acid (approx. 65-70%), while the proportion of polyunsaturated fatty acids is comparatively low. For this reason, the oil is very stable to oxidation and lasts about 18 months after opening.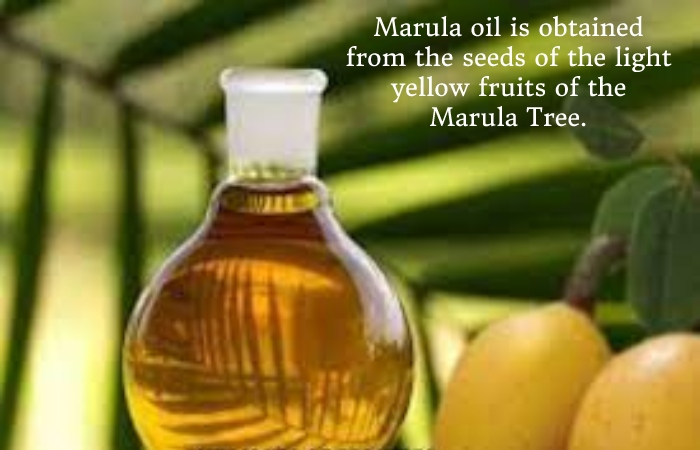 Superstar Ingredients
1. Oleic Acid
The monounsaturated fatty acid affects absorption behaviour and makes the skin feel soft positively. However, this promotes the absorption of other fat-soluble ingredients, so oleic acid is also known as an "enhancer." overall, however, oleic acid tends to have a destabilizing impact on the skin barrier property initially appears hostile.
2. Linoleic Acid
It is part of a different group of essential membrane lipids (ceramides) and is crucial for an intact skin barrier. Marula oil contains about 6% linoleic acid.
3. Antioxidants
In marula oil, various potent antioxidants are suspected. Sometimes there is talk of 60% more antioxidants than in argan oil – the antioxidant-rich oil par excellence! But apart from a certain amount of vitamin E, the exact composition of the antioxidants has not yet been fully clarified. One suspects fat-soluble vitamins and phenolic compounds such as procyanidin, catechins, and flavonoids.
Benefits Of Marula Oil
1. Marula Oil For Skincare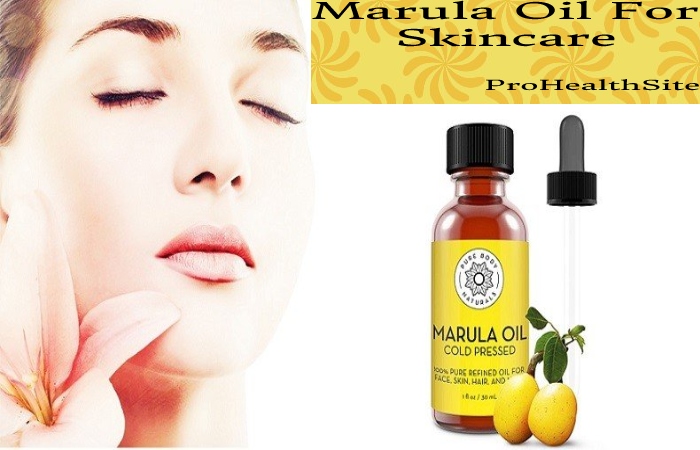 Due to its medium-spreading character, marula oil spreads comfortably on the skin. It is suitable for use on mature, regular, and dry skin. It leaves the skin feeling light and soft, mainly due to the high proportion of oleic acid. The formation of the protective film prevents the skin from losing moisture.
Overall, it is particularly suitable for combining with other oils or care products because it promotes the penetration of other substances into the skin and thus ensures a lasting care effect. To do this, put 2-3 drops of the oil on cleansed and moistened skin and massage in gently. Then use a moisturizer. Alternatively, add a few drops directly to a hazelnut-sized amount of moisturizer and distribute evenly over the face.
2. Marula Oil For Hair Care
Marula oil is ideal for caring for dry and brittle hair. To do this, knead the oil into the tips of the moistened hair in the evening. Leave the treatment on overnight and wash off in the morning. The result is impressive: shine and elasticity.
3. Marula Oil In Cosmetics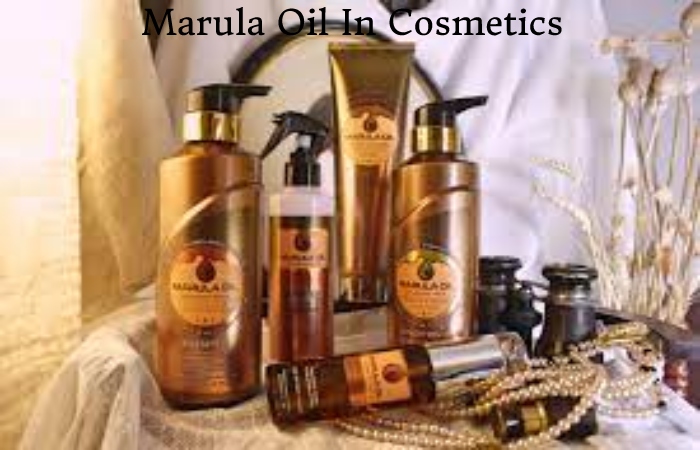 Marula oil is a relatively unknown oil that has excellent care properties. Traditionally, South African women in body care are used as a moisturizing and moisturizing cosmetic against dry, cracked skin and in hair care, but also for cooking; many sources cite its use for the nose and ear drops. It has a low odour and is therefore ideal as a base oil for mixing with essential oils.
Recipes with marula are pleasantly light and leave the skin feeling incredibly soft and pleasant; I have used it in skincare products for the face and massage oil and found it very pleasant. It strengthens the skin's lipid film due to its relatively high content of the saturated fatty acids palmitic and stearic acid. Still, due to the high content of oleic acid, It is very well absorbed.
I like to call marula oil »protective oil« because its specific composition creates a »shell« against environmental influences and reduces transepidermal water loss; it reduces skin redness. In a balanced emulsion, marula oil with other oil with an emphasis on linoleic acid. An excellent oil to combine is, e.g., B. hemp oil, which is stable against oxidation by marula oil.
Other Beauty Benefits Of Marula Oil In Skin And Hair Care
It is irritant-free, ideal for reddened or sensitive skin
It protects with antioxidants, perfect for anti-ageing care
The oil is moisturizing and moisturizing, suitable for dry skin
It prevents the skin from losing down the moisture
It is also great for the hair as it provides moisture
And also, it provides more shine to the hair
Also Read: Actress Without Make-up – Top 10 Bollywood Actress Without Make-up, 5 Most Beautiful Actresses Without Make-Up
Related searches:
[marula oil for skin]
[marula oil for hair]
[marula oil for face]
[does marula oil lighten skin]
[marula oil side effects]
[marula oil amazon]
[marula oil for acne]
[virgin marula oil]